Air Max is a way of life, an obsession, a form of self expression. Some have amassed thousands of Air Max, while others possess some of the rarest collaborations ever released. No matter what their collections look like, they all have one thing in common: a deep passion for Visible Air.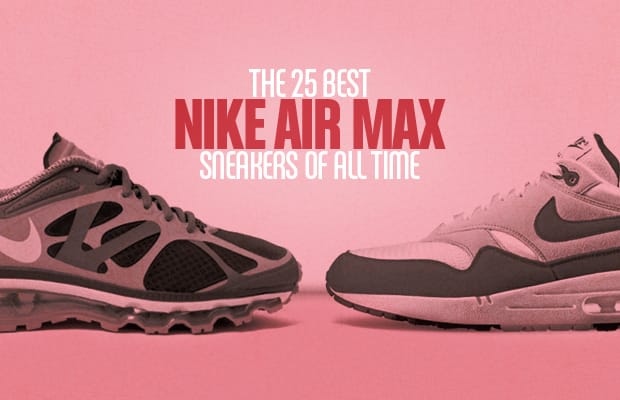 From the Air Max 87 all the way to the Air Max 2012, Nike's had our back (or better yet, our feet) in terms of good looking comfort. Nike's Air Max Technology employs the type of cushioning at the sole of the shoe that could only be produced by the Earth's most valuable combination of gases — Air. However, getting consumers to understand that there is air cushioning and absorbing impact as they stride can be quite difficult; it is for this very reason that Tinker Hatfield decided to literally expose the "guts" of the sneaker, after being inspired by the transparent nature of the Centre Pompidou in Paris, France. Thus, not only is Nike Air Max Technology comfortable, it's also aesthetically pleasing.
The Nike Air Max lineage runs deep and it comes in many forms. Whether a sneaker implements Air Max, Air Max2, Total Air or Tuned Air, the concept and appearance is similar and easily recognizable. Let's look back at some of the vintage Air Max sneakers to decipher where they stood in the test of time.
25. Nike Air Max CW (Sensation)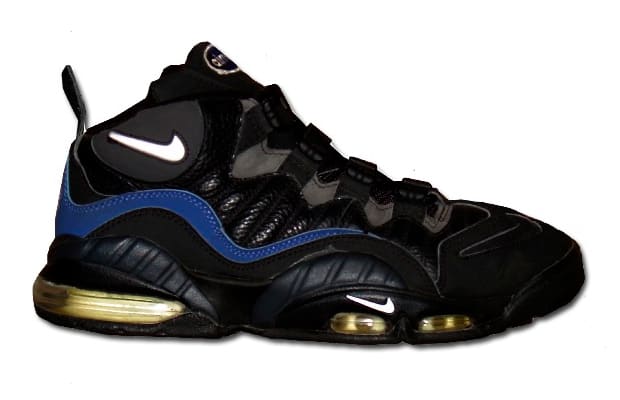 Released: 1995
Although the Air Max CW did very well against other top sneakers were out at the time (Air Max Penny I, Air Max2 CB 94, Air Jordan X), it was later pulled when the man it was made for — C-Webb — decided to leave Nike over differences in the way the shoe was marketed/sold. Aside from its brief stint on the market, it's the design and classic '90s basketball nostalgia that have fans urging for a(nother) retro.
24. Nike Air Speed Turf Max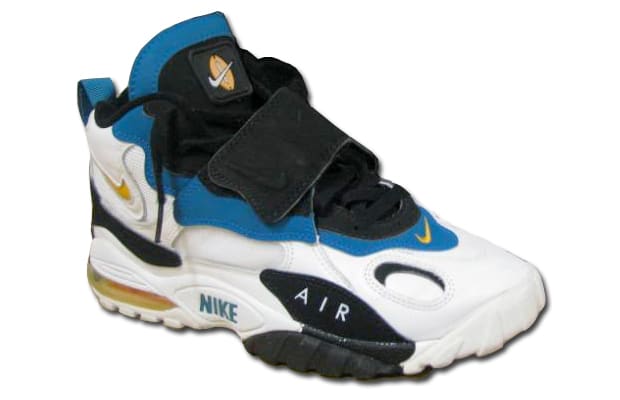 Released: 1995
Remember Dan Marino? You know, one of the greatest quarterbacks to ever play in the NFL; or, do you remember his kicks, the Air Speed Turf Max? Consisting of a chunky midfoot strap and 360-degree Air Max unit in the heel, the Air Speed Turf Max is a '90s football sneaker that enthusiasts are literally petitioning to come back (thanks to Nike, it'll see a retro release come Summer 2012).
23. Nike Air Max2 Uptempo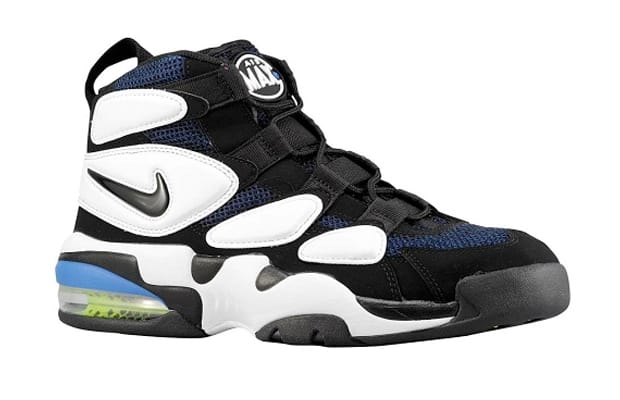 Released: 1995
Popularized by mid '90s Duke Basketball players, the Air Max2 Uptempo made use of advanced Air Max2 Technology — a high-pressure unit which lacked the holes seen in traditional Air Max cushioning. Obviously, if you were going to play for the best, you had to wear the best.
22. Nike Air Max Deluxe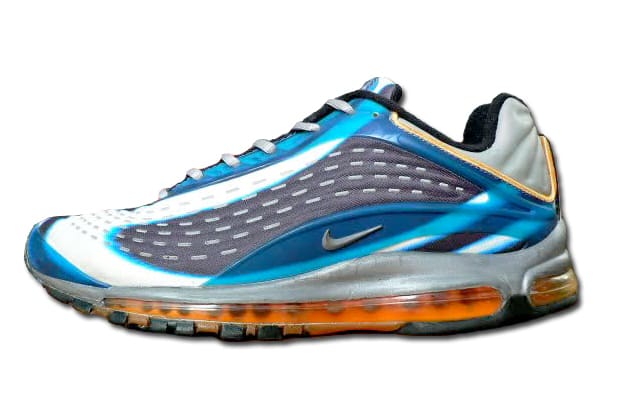 Released: 1999
Aside from its full-length Air unit, the Air Max Deluxe definitely took the road less traveled by in terms of Air Max design. The tie-dye-like design and sleek upper of the AM Deluxe makes one wonder, "Why have these beauties been out of production for so long?"
21. Nike Air Max 120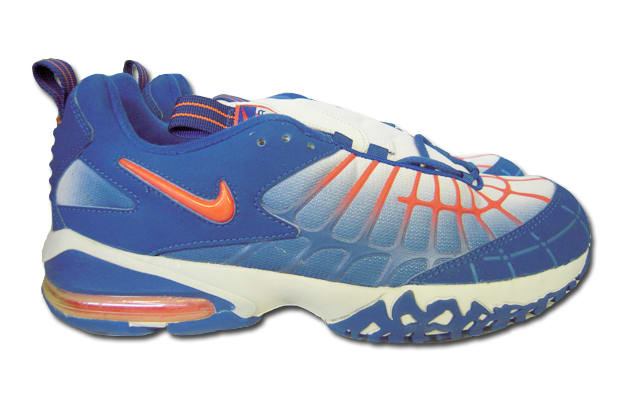 Released: 1999
Designed by Richard Clark, who is now the Creative Director of Nike Sportswear, the Air Max 120 featured a full 360-degree Air Max unit on the heel and was the first Nike shoe to implement color sublimation — the gradient-styled upper that forced many bystanders to do a double take. Yet to see a re-release, the "Spiderman-esque" AM 120 is a classic within the Nike family.
20. Nike LeBron 9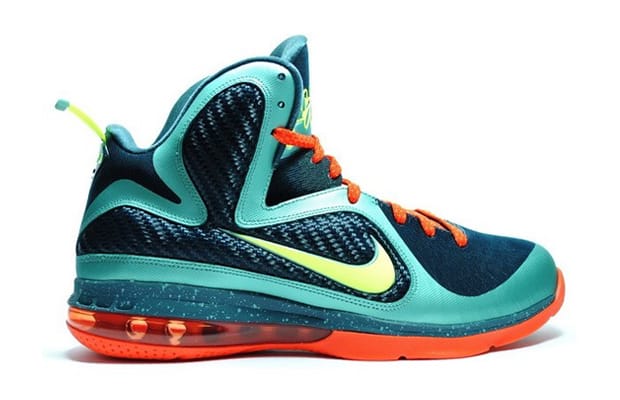 Released: 2011
With LeBron's triple threat of "speed, agility and force" in mind, footwear designer Jason Petrie utilized both Flywire and Hyperfuse for the first time ever on a single basketball silhouette. The combination of both technologies, along with a 180-degree Air Max heel, allow multi-faceted talents like that of LeBron to be fully realized.
POST CONTINUES BELOW
19. Nike Air Max 96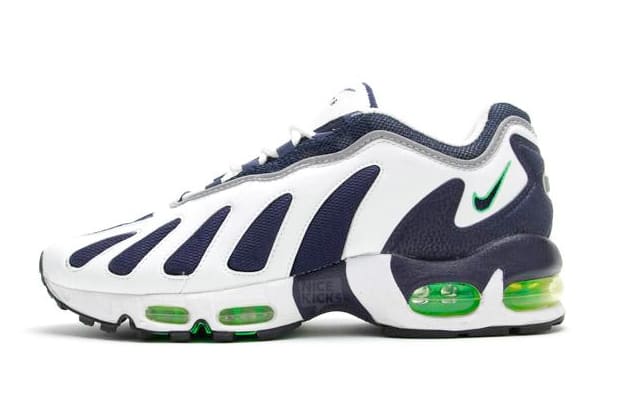 Released: 1996
Though a heavily underrated classic, the Air Max 96 is now one of the most exclusive and sought-after originals. With different tunings of its bags set at 25 PSI and 5 PSI, the 96 provided supreme stability and comfort throughout the heel. Who'd like Nike to hold off on another Air Max 95 retro and bring these back instead?
18. Nike Air Max 93 (Air Max 270)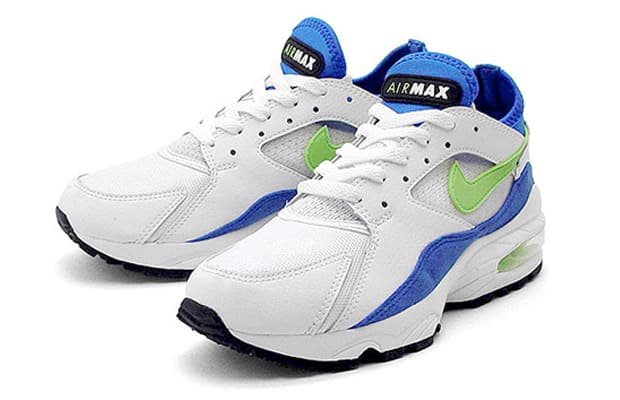 Released: 1993
First known as the Air Max 270, due to its much-hyped 270-degree Air unit, the AM 93 provided more air and therefore greater protection. The shoe was also manufactured by a new process called "blow moulding," in which gas was injected through an external tube so that plastic could be formed into a mold. Also being the first Air Max with a colored Air unit and neoprene sock liner, the 93 proved that Nike was certainly pushing the envelope when it came to runners.
17. Nike Air Max TN (Air Max Plus)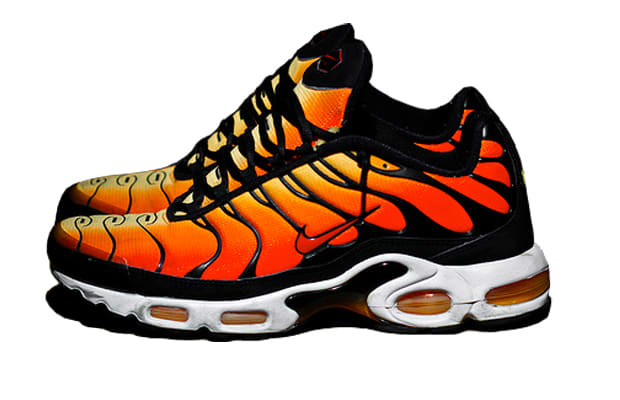 Released: 1998
The Air Max Plus was the first running shoe to utilize Nike's Tuned Air Technology, which consisted of a system of individual pods that "tuned" to different areas of the foot. With a plastic toeguard at the front end and a sweet color gradient on the upper, the Plus was a smash in the UK hip-hop scene.
16. Nike Air Griffey Max II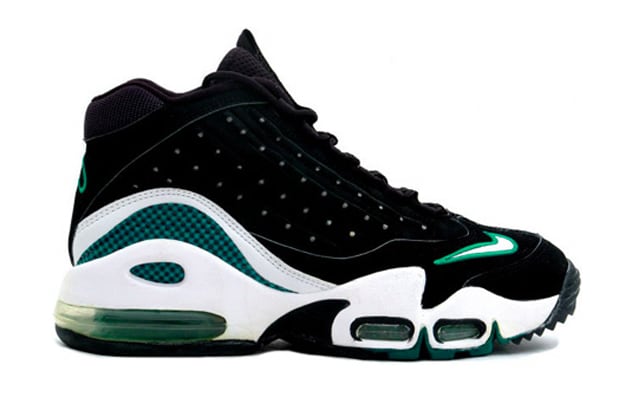 15. Nike Air Max BW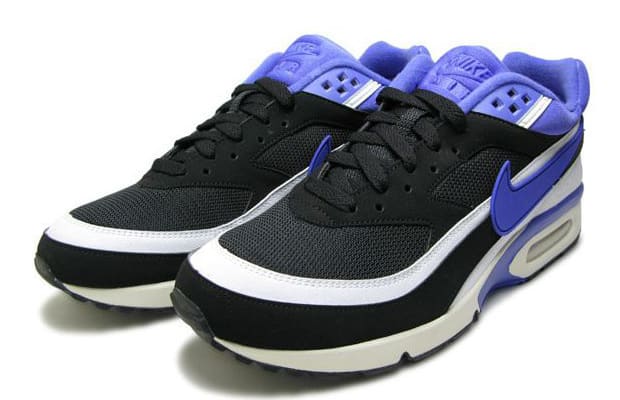 Released: 1991
The Air Max BW consisted of an Air unit in the heel, a sleek leather upper and a classic Blue Ribbon Sports 1000 carbon rubber waffle sole. Due to its sharp design, it's no wonder there hasn't been any shortages of BW's in stores across America.
14. Nike Air Max LeBron 8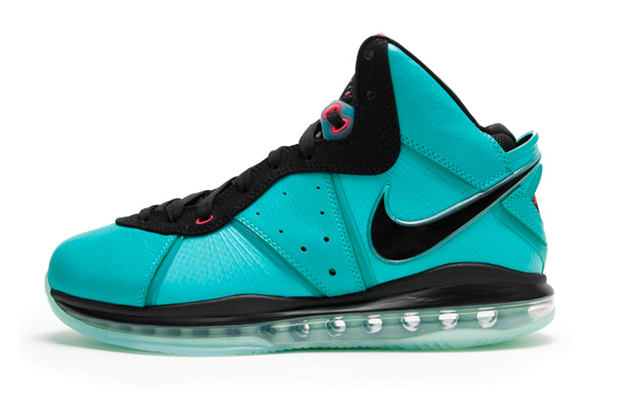 Released: 2010
The Air Max LeBron 8 combined luxury with a high-performance basketball sneaker by way of a 360-degree Air Max unit, Nike Flywire technology and a buttery all-natural leather upper. Though LeBron may have fallen short on a championship in 2010, the LeBron 8 came correct with colorways such as the "South Beach" that had sneaker enthusiasts calling all of their 3-0-5 connects.
13. Nike Air Max Penny II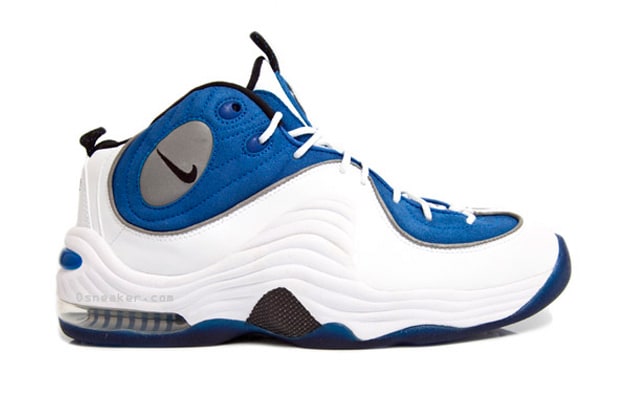 Released: 1996
With Air Max in the heel and Zoom Air in the forefoot, the Air Max Penny II was the epitome of comfort and responsiveness. It's classic, wavy cloud-like design solidified the Penny signature line as a major footwear contender.
12. Nike Air More Uptempo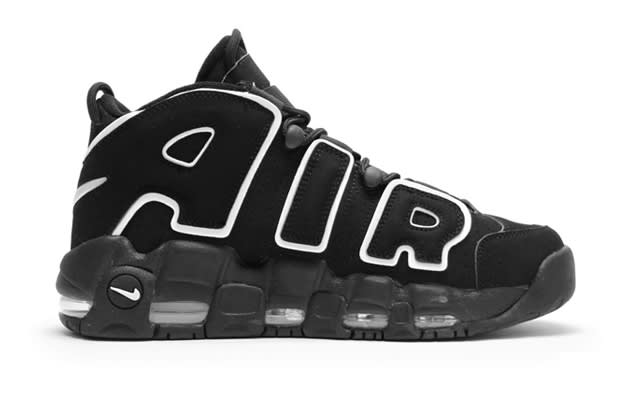 Released: 1996
As one of the most recognizable sneakers from the '90s, the Air More Uptempo came equipped with a full-length Air Max unit and a side panel that spoke to its comfort. As if they weren't unforgettable enough, Scottie Pippen made sure these would forever be carved into our memories.
11. Nike Air Max 2011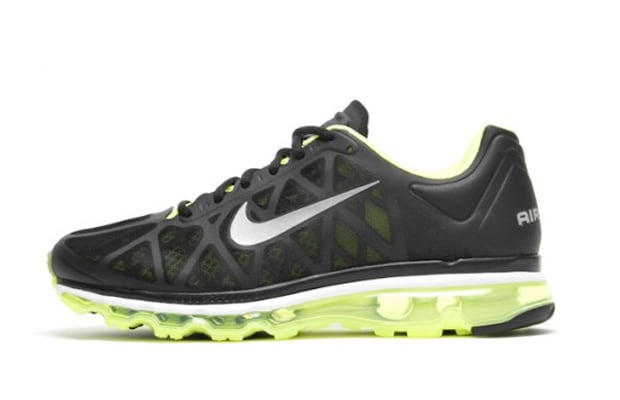 Released: 2011
Equipped with a full-length "uncaged" 360-degree Air unit and Hyperfuse, the Air Max 2011 has been boasted as the best Air Max running shoe to date. Its comfort, combined with increased breathability and decreased weight, made the AM 2011 a top performer with impeccably appealing design.
10. Nike Air Griffey Max I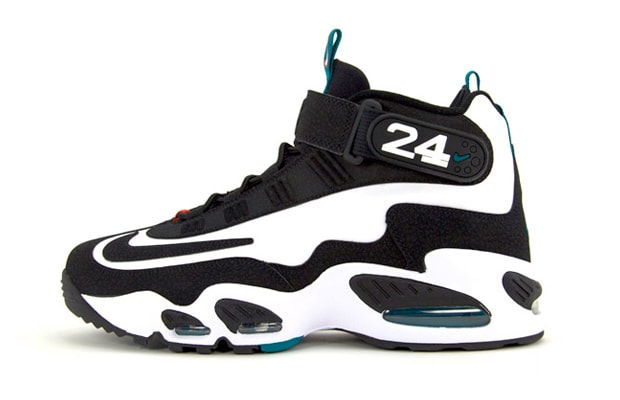 Released: 1996
Back in 1996, when Nike endorsed "The Kid" they had to make sure his footwear was proper. The Griffey Max utilized an Air Max sole and a strap for added comfort, stability and support. A classic sneaker for an heavy-hitter.
9. Nike Air Max Penny I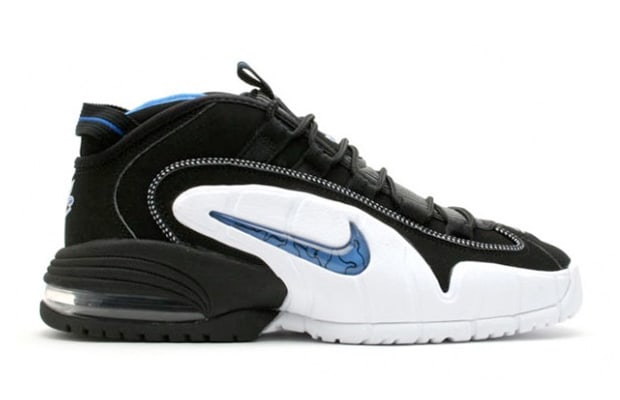 Released: 1995
The Air Max Penny I was the first model in what would become one of the greatest signature lines of sneakers ever. With Air Max cushioning in the heel, the Penny I quickly garnered the same respect as the guy they were originally designed for.
8. Nike Air Max 180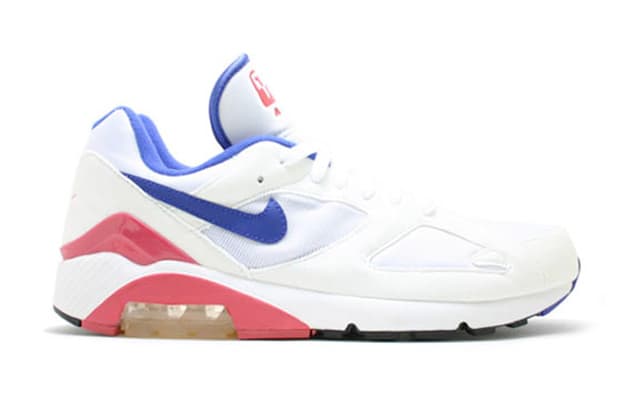 Released: 1991
With the Air Max 180, Nike stepped its game up by adding 50 percent more air and placing a clear sole over the Air unit, such that a passerby wouldn't have to strain their eyes too much looking for the 180-degree Air bag. Innovation at its best.
7. Nike Air Force Max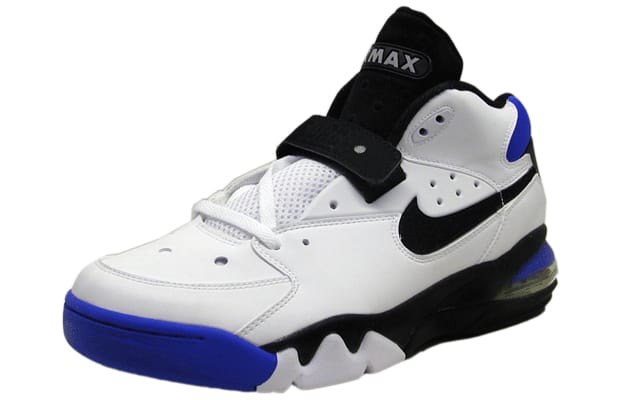 Released: 1993
Just one shoe was bad enough for the Fab Five AND Charles Barkley — and that was the Air Force Max. The next logical evolutionary step from the Air Force 180 Low, the Air Force Max utilized a bigger Air bag, more prominent ventilation, and brought a new level of ruggedness to the hardwood.
6. Nike Air Max2 CB 94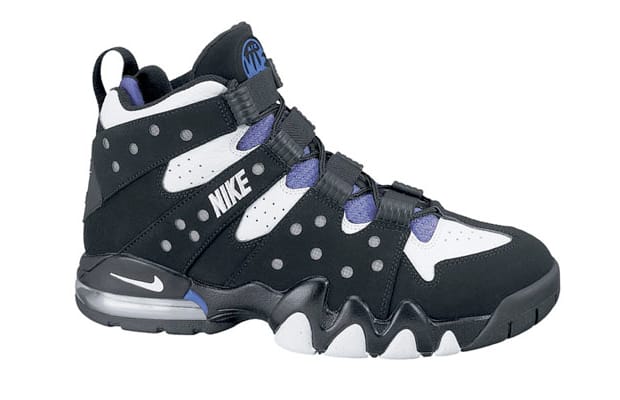 Released: 1994
Inspired by a straitjacket, the Air Max2 did anything but restrain the aggressive play of Sir Charles Barkley — though it likely did make him more comfortable. Easily a go-to in discussing the top sneakers in '90s basketball.
5. Nike Air Max 97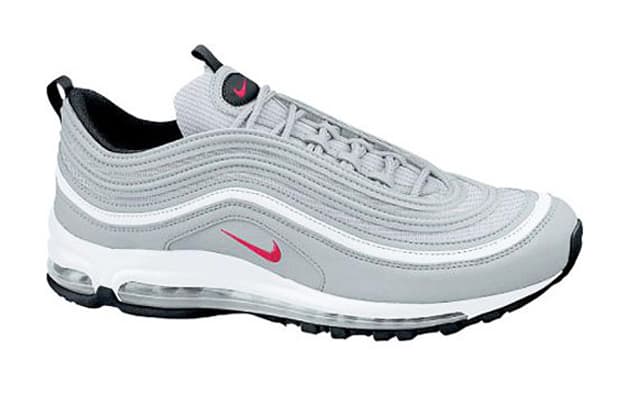 Released: 1997
The Air Max 97 was the first shoe in the Air Max lineage to utilize true full-length Air cushioning and certainly laid the foundation for some of the most recent additions to the AM line — such as the Air Max 24/7. With 3M highlights and a super-sleek design, the 97 is a timeless standout.
4. Nike Air Max Uptempo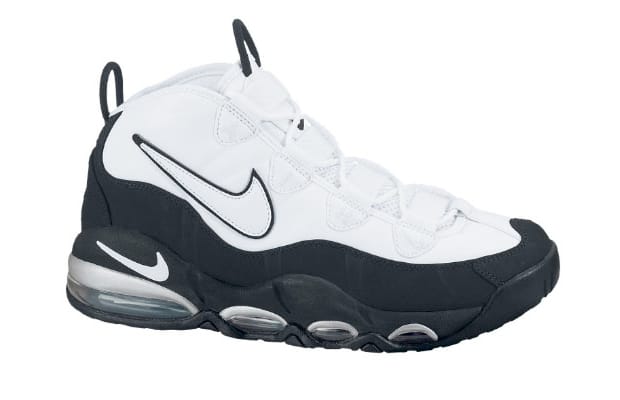 Released: 1995
A full-length Air bag is one of the main characteristics of the original Air Max Uptempo. However, it was the supreme comfort and stability that was key to it being chosen by the top basketball players in the nation (including David Robinson and Scottie Pippen) when it dropped.
3. Nike Air Max III (Air Max 90)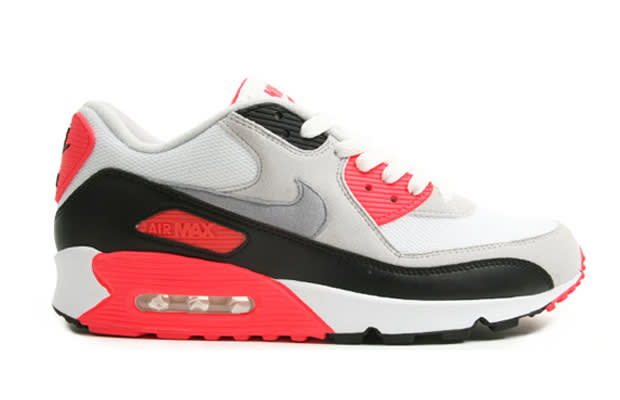 Released: 1990
It wasn't until 2000 that Nike officially changed the name of the Air Max III to the Air Max 90 for its then retro release. Featuring a distinctive TPU panel around the Air bubble, Duromesh, and synthetic suede upper, it's hard to resolve whether it was the materials or "Infrared" colorway that initially attracted sneaker lovers.
2. Nike Air Max I (Air Max 87)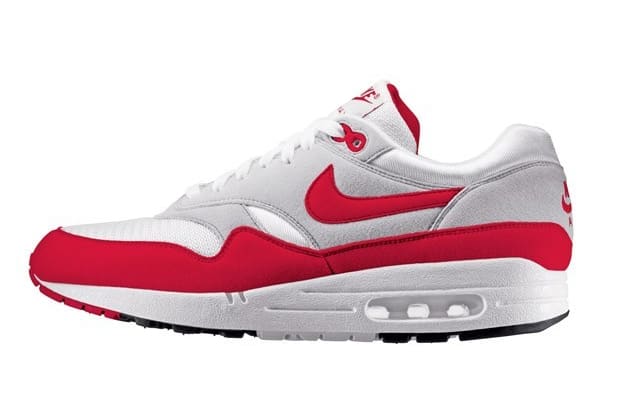 Released: 1987
Before the Air Max I, there was no such thing as a visible Air unit. Inspired by the transparent nature of the Centre Pompidou in Paris, Tinker Hatfield revolutionized sneaker design by exposing the "guts" of the Air Max I. More than 30 years later, the Air Max I still holds its own against virtually any other sneaker ever made.
1. Nike Air Max 95 (Air Total Max)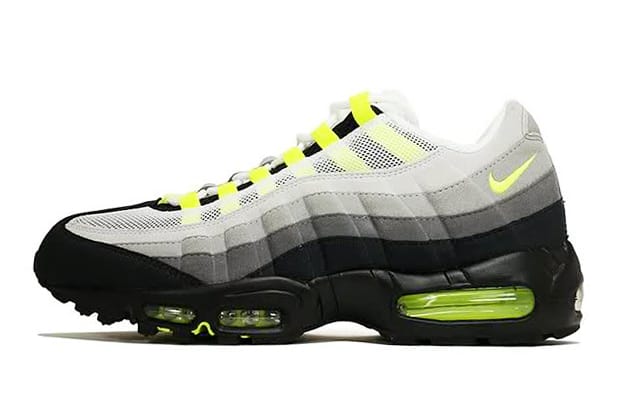 Released: 1995
With a design that embodies a representation of the human anatomy, Sergio Lozano's Air Max 95 is of the most recognizable in the Air Max family. According to a 2007 study of the UK Forensic Science Service's database of footwear, the Air Max 95 is also the No. 1 choice in footwear for criminals. Nice little tidbit.
ARTICLE SOURCE:
Comments
comments