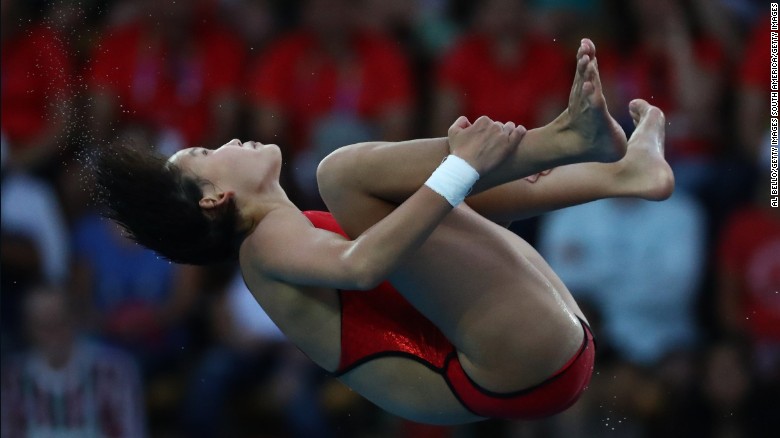 Ren is now the reigning world and Olympic champion.
Age is but a number. She's just 15 and already a world champion — but Ren Qian had a new shiny Olympic gold medal to show off Thursday. Ren, who won the 10-meter platform diving world title in Rio back in February added the Olympic title after leading a Chinese 1-2. China's Si Yajie, 17, claimed silver with Canada's Meaghan Benfeito coming third. Qian led a 1-2 for China in the women's 10-meter platform diving. Ren scored 439.25 points after five dives to finish 19.85 points ahead of Si (419.40).
The 15 year old female dive proclaimed her self as the absolute monarch at the 10m platform at the World Cup by getting a very rare 10 points from every one of the judges, and an unattainable benchmark for any other contender.
She had led the event since the beginning, and also executed perfectly the back two and a half somersault and a half twist and finish the third day of competition with 454,65 points at the last jump and a gold medal.  Read: Day 13 live
With the win, Ren became the youngest medal winner of the Rio 2016 Olympic Games. Born on February 2001, she is the second youngest champion of the 10-meter platform after Fu Mingxia, who won gold at Barcelona in 1992.
"I feel quite good about it. I'm young, but I got the medal. I think from now on I'll train harder, I'll work harder so I can focus on my future," Ren said.
"To be honest, I think my team-mate (the gold medallist) Ren Qian is a better diver so I think that she really deserved the gold," Si said.  Early on, a pair of Canadians, Meaghan Benfeito and Roseline Filion, along with American Jessica Parratto managed to stay close to the mighty Chinese teenagers.
By the end, Benfeito was the only one anywhere close, grabbing the bronze at 389.20. Only one Canadian diver has won more, Emily Heymans who has four. Filion dropped to sixth and Parratto botched two straight dives, plummeting all the way to 10th.
As for the Chinese, they never wavered.
Seamlessly filling the void left by two-time Olympic champion Chen Ruolin, Ren and Si took turns seeing who could out-do the other. Their spins were quicker than anyone else's. Their twists and turns were graceful and elegant, yet showed stunning athleticism.
And when they sliced through the water, they barely left a ripple. Ren never received a mark lower than 8.5, and her final two dives produced three perfect 10s. Hardly looking her age, she was simply unflappable in her first appearance on the Olympic stage.
*Article source:
Comments
comments